Central Vacuums: Central Vacuum 101
What are Central Vacuums?
Find the right Central Vacuum system. Most central vacuums consist of a built-in vacuum power unit, centrally located, which contains the vacuum motor and dirt collector or canister. From the central vacuum unit, tubing is simply routed through walls by way of the attic or under floors to conveniently located wall inlets. When vacuuming, a lightweight, flexible hose is inserted into the wall inlets which turns on the central vacuum. With a set of central vacuum attachments all surfaces may be cleaned with ease of use. After cleaning is finished, the central vacuum hose is put away & out of sight.
Our Top Selling Central Vacuums in The United States
Research has been done and 9 out of 10 customers choose one of these 6 central vacuums!
Owning a Central Vacuum is Economical:

A complete system costs no more than any other major home appliance. And having a central vacuum system makes everything in the home last longer, and adds value to your home. Central vacuum units are one of the top 5 items influencing home sales.
Built-In Convenience / Out-of-Sight Central Vacuums:
A central vacuum system can eliminate some of the hard work and most of the annoyances of vacuuming. Because the power unit is built-in, you don't have to lug a heavy vacuum cleaner around, plugging and unplugging as you go. Cleaning from room to room is far easier and cleaning those out of the way places like the stairs, garage, patio or basement is a less demanding chore.
Central Vacuums Have More Power Than Conventional Vacuums:
A central vacuum helps you get more dirt out of your house! Because you don't have to drag it around with you, your central vacuum motor is larger, designed to give you more power and long-term performance than portable vacuums. It sucks up the dirt, all kinds, and sends it off to the large dirt receptacle.
Central Vacuums Allow You and Your Family To Breath Easier:

Breathe EasierIndoor air pollution is one of the most common problems addressed by allergists. One in three people in the U.S. have dust-related allergies and the EPA estimates that indoor air may be up to five times more polluted than outdoor air. A central vacuum is often recommended for removing pollutants since 100% of pollens, bacteria, and pet dander vacuumed are exhausted out of the home when vented outdoors. Researchers at the University of California at Davis school of medicine revealed that the use of a central vacuum system reduced nasal allergy symptoms by as much as 47%, eye symptoms by as much as 61% and improved indoor air quality by 52%.
Central Vacuums Helps Stop Noise Pollution:
Because the power unit and soil receptacle are tucked away in the basement, garage, utility room or a closet, not only is the dirt trapped in that far-off place, but so is the noise!
Central Vacuums Add to the Value of Your Home:
Besides the convenience and powerful performance it offers, a central vacuum system is a valuable addition to your home investment, adding to its sales appeal and resale value. A central vacuum unit is easy to install in new or existing homes.
Finally, a central vacuum eliminates the need to drag a clumsy machine around the house, banging up walls and furniture in the process. Portable vacuums have to be lugged up and down the stairs, and in the case of canister vacuums, they have the potential to fall down the stairs if tugged while cleaning. The dirt capacity in a central vacuum is generous too; it usually requires emptying only once per year. As a final enticement to the homeowner, built-in vacuums typically retain their full value when a home sells and are considered a home upgrade which will increase the value of the home - something that can't be said for a portable vacuum.
CENTRAL VACUUMS -
DISPOSABLE BAG OR BAGLESS
"It All Depends on Just How Close You Want To Get
To Your Dirt.."



Bag Filtration Used in Central Vacuums:
High efficiency disposable filter bags provides the ultimate in motor protection (99.9%) and dust free operation. Clean, convenient and hygienic with no suction loss. No more dirty arms and hands from shaking out dirty filters. No more dust cloud when emptying the dirty canister. Motors and permanent filters breath easier for years to come.
Bagless Central Vacuums With Self Cleaning Filter:
The filter bag is lifted as the power unit is turned on. Once the power unit is shut down, the weighted self-cleaning filter drops and displaces the accumulated dust and deposits it into the dirt canister. Dirt canister is emptied as needed.
Types of Central Vacuum Construction:

When choosing a central vacuum another aspect to consider is the construction type of the vacuum unit. Vacuum units can range from high quality ABS Polyethylene / Polypropylene injected plastic, to metal, to a combination of both. The quality of the vacuum unit's outer casing is especially important when you factor in vibration, quietness, denting, scratching, rusting, weather conditions and how these things effect the performance and longevity of your central vacuum unit. Please note that the construction material does not in anyway effect the filtration of a vacuum unit, and has no bearing on such things as allergies, dust mites, etc.
Type 1 - ABS Body Constructed Central Vacuums:

Before any ABS production begins, all components are put through rigorous tests and subjected to enormous strain and stress that exceeds typical residential household use. ABS is globally recognized for its durability and longevity, and offers such advantages as being dent proof, rust proof, erosion proof, scratch proof and heat resistance as well as offering a vibration-free performance. The use of this material in central vacuum units also greatly helps reduce the decibel level of a unit, making for a quieter operation. In addition to all these features it also gives you the advantage of having a much lighter canister to work with when changing the bag or dumping the canister. The lighter the canister is, the less likely it is to fall or drop. This can cause heavier metal units to dent. ABS Polyethylene / Polypropylene injected plastic is being used by today's top vacuum manufactures. Vacuum companies such as Sebo, Bosch, Dyson, Electrolux, Oreck, Riccar, Panasonic, Hoover , Eureka & 99% all of the commercial vacuums use this material to insure longevity and durability. Miele, considered the finest quality vacuum in the world, also uses this material in every vacuum they produce. These companies have already recognized the futuristic advantages of this material and all the benefits it has to offer. This isn't your child's toy material! Central vacuum companies that use this state-of-the-art material are; Electrolux, Eureka, Drainvac, Whirlpool, Nutone, Royal, Dirt Devil, Hayden, Vacuflo and so many more.
Type 2 - Metal Body Constructed Central Vacuums:
Many central vacuum companies still use metal as a sign of durability and strength. Metal canisters tend to be much heavier and more difficult to deal with. The vibration caused by the metal design will increase the decibel level and make the vacuum unit operate louder. The metal material may rust over time causing problems with hinges and latches. Metal material may chip over time and is NOT dent proof, rust proof and erosion proof. Heavy metal canisters may also vibrate themselves off of the mounting bracket, falling to the floor. This design is basically a round garage can with a motor in it. Central vacuum companies that use metal are; Hoover, WalVac, Cana-Vac, Budd, Zenex and so many more.
All central vacuums regardless of construction material are designed to last. You will hear many claims from different central vacuum companies about the strength and durability of their vacuum unit's outer casing. These many different claims are based on their own bias opinion and are said to try and influence the consumer. There is truly no good or bad side, but rather a matter of customer opinion. Another important factor when trying to determine the quality of a vacuum units outer casing is its warranty. The length of the warranty is a great indicator of the strength and durability that can be expected from it's material. More than 60% of companies in the central vacuum industry will be using state-of-the-art ABS Polyethylene/Polypropylene injected type materials by 2009. Similar to the garbage can industry, which saw the widely used metal trash can virtually disappear and become replaced by the more durable, lighter plastic/rubber style garbage cans, thanks to the injection mold process made famous by companies such as Rubbermaid.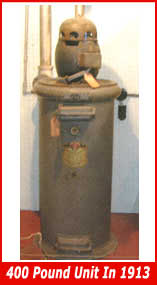 The Only Way To Go For Keeping Your Home Clean & Safe From Allergies.
---
Once Considered A Luxury For The Rich And Famous, Central Vacuums Are Now A Luxury Everyone
Can Afford.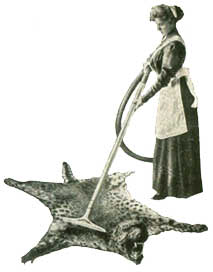 Central Vacuums have started to grow in popularity because they are extremely functional machines. Besides being easy to install, the installation procedure can be done in less than a day. There are several other outstanding features of central vacuums that makes them a must have in each and every house. Some of these features include:
Central Vacuums Offer Reduced Noise Pollution:
Unlike in traditional or standard vacuum cleaners, the central vacuum does not have any loud and deafening noise. There were those days when vacuum cleaners sounded like lawn mowers forcing you to put on ear plugs and having the little critters we call pets scatter about the house trying to get away from the motor whining. Today, the central vacuum units have stronger and silent motors, with an average decibel level of 61. One of the major benefits of installing a central vacuum system is that it will always be situated away from your living area. This is why the relatively low noise of the motor gets masked by natural sounds. Now you can vacuum and clean your home while listening to your favorite TV show!
Central Vacuums Offer More Versatility:
One of the biggest advantages of using a central vacuum is that it is a versatile machine and easy to use. Even your teenage daughter can use it while gossiping on her phone! It is a versatile machine and definitely far better than the standard vacuum cleaners because it will help you to clean every nook and corner of your home, kitchen, and garage. The cleaning task would be fast and efficient! Some of the newer models of central vacuum units can pick up dirt, dust, mold, and any intrusive object. One of the really commendable features is that you will never have to bend down while cleaning as all the top brands like Nutone, Drainvac, Canavac, Purvac, Hoover, Eureka, and Electrolux offer long hose pipes. Most companies offer different types of nozzles to reach and clean different parts of your home right from the ceiling to the rear of the book rack, any surface really.
Central Vacuums Clean Down Deeper to Get More Dirt, Dust and Debris:
A central vacuum unit is built for power cleaning. These machines have powerful motors that are at least 10-times stronger than your traditional portable vacuum cleaners or hand-held vacuums. As a result, a central vacuum system ensures that you are able to deep clean right from the edges of the couch to the corners of a Persian carpet and it cleans away everything from dust to pet dander, pollens, allergy-causing particles, mites, and any unwanted filth. It will also tackle the high to reach places like track lighting and on the fan blades, where a lot of dust accumulates. This makes it a true complete system. It actually plays a crucial role in keeping you and your family healthy. All central vacuums can clean your home of air pollutants like pollen, dust mite, feces, candle char, cockroaches and more. It will also clean VOC (volatile organic compounds) like chemicals released from plastic, paints, glue, perfumes etc. Deeper cleaning means that the air in your home will be fresher and healthier for you and your loved ones.
Get the Power of HEPA Filtration in Central Vacuums:
Most better central vacuums provide HEPA air filtration. HEPA stands for high efficiency particulate air and it is a standard that has been created by the US Atomic Energy commission. According to the standard, the filtered air should have no more than 99.97% of particulates of 0.3 micron size. Most top-of-the-line central vacuums have a HEPA filter for making your home & family free of harmful particulates.
Central Vacuums Will Increase The Value of Your Home:
Installing a central vacuum system means that the return on investment will be higher. One of the important things to note is that a home with an installed central vacuum system will always have a higher market value where real estate is concerned. Apart from this, central vacuums have long-life, are durable, require one-time investment, and low maintenance.
These are some of the aspects that have made central vacuum systems quite popular in the US and across the world. This is actually the new-age home cleaning machine!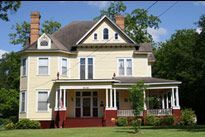 Studies have shown that indoor air pollution is more detrimental to you and your family s health than outdoor pollution. Vacuum cleaning has become an essential part of day-to-day existence. Global weather is changing and pollution is at its peak; all this is bringing more dust and dirt into homes. Of course then there are children and pets that bring in more than just dirt. Somewhere down the line, the requirement for vacuum cleaners has become essential. Finding the right central vacuum cleaner can be a difficult task, hence central vacuum cleaning is the best option because it's reliable and functionally effective.