Customer Reviews (

0

)
Question & Answers (

0

)
Read about the Electrolux PU3650 4-Gallon System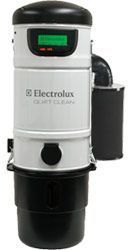 Electrolux is a leading name in consumer electronics and is also considered as one of the leading manufacturers of vacuum products in the world. Electrolux has a reach in the household of almost 40 million consumers across 150 countries. Electrolux is not only a popular brand in vacuum cleaners but also for other consumer products like ovens, cookers, fridge, cooktops, freezers, washing machines, dishwashers, tumble dryers, and air conditioners.
Electrolux is known as one of the global leaders in the segment of household appliances as well as appliances for professional use. The company has grown by leaps and bounds due to their constant focus on innovation, thoughtful design, and consumer insight.
The founder of Electrolux is Axel Wenner-Gren and the company has been established on his principles. Wenner-Gren's dream was to improve the quality of life in homes across the world and Electrolux has been doing that successfully for almost 90 years now. Electrolux vacuum cleaners are a part of their floor cleaning category.
Electrolux PU3650B Power Unit Features
The Electrolux PU 3650B is appropriate for homes up to 8,000 sq. ft. and is engineered with a Patented Quiet Clean Sound Design. With a substantial 600 air-watts and an unsurpassed water lift of 140" you will receive maximum suction power with the Electrolux Pu3650B. Durable and reliable with a Lifetime Limited Warranty on a durable steel body and 10 year Limited Warranty on all other parts. Innovative Electrolux's total performance monitoring system makes the PU360B a great feature for every consumer. Electrolux has been a pioneer in the appliance industry for generations and have evolved within the central vacuum industry in dreaming up the technology and perfecting the PU3650B.


2-Year Electrolux Limited Warranty: This warranty is applicable for all new and factory refurbished Electrolux vacuum cleaners. The Electrolux vacuum cleaners are warranted to be free of any or all defects in workmanship and material. The warranty on an Electrolux vacuum cleaner to be used in a household is two years. The Electrolux warranty is applicable for the original purchaser as well as members of their immediate household. The warranty does not cover specific parts of the vacuum cleaner like disposable dust bags, filters, fans, drive belts, brush roll bristles, and light bulbs. In order to obtain the warranty service, you will need to return your defective cleaner or cleaner parts along with a proof of purchase to an Electrolux Authorized Warranty Station.


HEPA MicroSeal™ Fresh Air technology: HEPA is known as High Efficiency Particulate Arresting and HEPA filters are normally used in vacuum cleaners to ensure the removal of fine dust particles. The HEPA MicroSeal™ Fresh Air technology is being used by Electrolux in their vacuum cleaners to ensure clean and healthy indoor air. HEPA MicroSeal™ Fresh Air technology ensures your home is rid of allergy and asthma and related medical conditions. HEPA filtration technology is able stop mold spores with ease. It can also stop the growth of several harmful bacteria and viruses within your home. Electrolux vacuum cleaners using HEPA MicroSeal™ Fresh Air technology guarantee 99.97% efficiency when it comes to removing dust particles of 0.3 microns from the indoor air at your home
Specifications of the Electrolux PU3650 4-Gallon System
Square Footage

8000

Waterlift

140.000

Max Air Watts

600.000

CFM

125.000

System Type

Hybrid

Product Warranty

N/A

Unit Size Option

4-Gallon

Capacity (Gallons)

4.00

Color

White

Product Width (Inches)

11.00

Product Height (Inches)

33.00

Product Length (Inches)

11.00

Visual Interface

None

Motor Status Indicator?

Yes

Bag Full Indicator?

Yes

Replace Filter Indicator?

Yes

Filter Type

Inverted

Filtration

permanent self cleaning filter

Filter Washable?

Yes

Voltage

120

Amps

14.50

Decibels

68.00

Utility Valve?

Yes

Motor Stages

2
Purchasing

Shipping

Quality
Write Your Own Review
No questions yet. Be the first to ask the question!