Customer Reviews (

0

)
Question & Answers (

0

)
Read about the ProTeam ProVac FS6 Backpack Vacuum 107363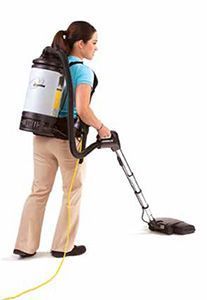 The ProTeam ProVac vacuum cleaner does not feature any beater bars, brushes, belts or any other components susceptible to damage. However, it comes with a static-dissipating hose, two Intercept micro filters and an extension cord which measures fifty feet in length. This is a 6-quart backpack vacuum cleaner manufactured by ProTeam which also features the four-level filtration system characteristic of this manufacturer. This filtration system has become quite popular in the vacuuming industry thanks to its ability to collect up to 99.9% of the allergens in the indoor air which exceed one micron in size. The filters can be washed in the dishwasher when full, along with the hoses and other accessories the vacuum cleaner is fitted with, for they are made of cloth and foam. The ProTeam ProVac use disposable bags.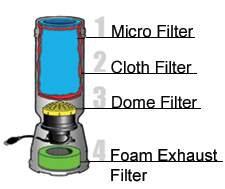 The ProVac vacuum cleaner may be a backpack model, but that does not prevent it from producing quite some power for its size. The 124 cubic feet of airflow per minute, the 6.2 amp motor and the 75-inch static lift are bound to impress in any environment this vacuum cleaner may be used in, whether a restaurant, a bar or club, a hotel or motel, a school cafeteria or a regular kitchen. The minimal noise level of 66 decibels should also be added to the list.
Additional benefits for the ProTeam ProVac


The ProVac Backpack vacuum is nearly unbreakable, it is for this reason that the ProVac is perfect for the foodservice and hospitality industries. The ProVac dose not have belts, brater bars or brushes, this makes is almost unbreakable.
All in all, the ProTeam ProVac backpack vacuum cleaner is a highly convenient professional appliance with cleaning abilities superior to those of upright vacuum cleaners and even other canister vacuum cleaners available on the market. It is aimed to deliver superior cleaning results and indeed it does, gathering a number of features which can hardly be matched by any other similar appliance on the market.
Product Warranty Information For The ProTeam ProVac
ProTeam ProVac Product Warranty
Carries a 3/3/3/Life warranty - 3 years on parts, labor and motor* and lifetime on the molded body parts. * 5 Year motor warranty when purchased with a restaurant kit.
Thinkvacuums.com. 800-322-2965


POWER
Watts 744 Watt
Weight 9 Lbs.
Decibles 66 dBA
Airflow 124 CFM
Static Lift 75 in.
Amps 6.2 A
Intercept Micro Filter 6 qt. (6.6 L)


FILTRATION
Four Level Filtration 676.01 sq. in
Specifications of the ProTeam ProVac FS6 Backpack Vacuum 107363
System Type

Bagged

Color

Grey

Weight (lbs)

11.6000

Visual Interface

None

Power Cord Length(Feet)

50.00

Capacity (Gallons)

1.50

Amps

6.20

Decibels

66.00

Square Footage

1054

Max Air Watts

1108.000

CFM

159
Check items to add to the cart or select all

Purchasing

Shipping

Quality
Write Your Own Review
No questions yet. Be the first to ask the question!