Customer Reviews (

0

)
Question & Answers (

0

)
Read about the Sanitaire SC530A Commercial Backpack Vacuum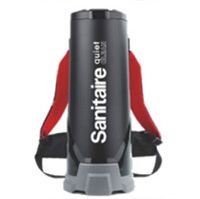 Introducing the all new Sanitaire SC530A backpack vacuum. Sanitaire has already accustomed the vacuuming industry with ground-breaking initiatives in its continuous pursuit of maximum user comfort and satisfaction. The Sanitaire SC530A vacuum cleaner is no exception, as it banks on maximum comfort and mobility, providing excellent results while keeping the noise levels to a minimum.
Less user fatigue with Load Dispersion Technology
Harness design provides added comfort, balance and reduces heat dispersion, resulting in less user fatigue, reduced turnover and greater cleaning efficiency.
The Ultimate Time Trial
When used as part of the Team Cleaning process, the Quiet Clean Time Machine will drive increased productivity.
The Quiet Clean Time Machine
At less than 63dBA, the Quiet Clean Time Machine is ideal for cleaning locations where noise needs to be kept to a minimum.
All the extras included – Saves time
Don't go searching for tools. You need the right tools at hand to get the job done, so the QuietClean Backpack comes with a large assortment of tools including attachments to clean every surface.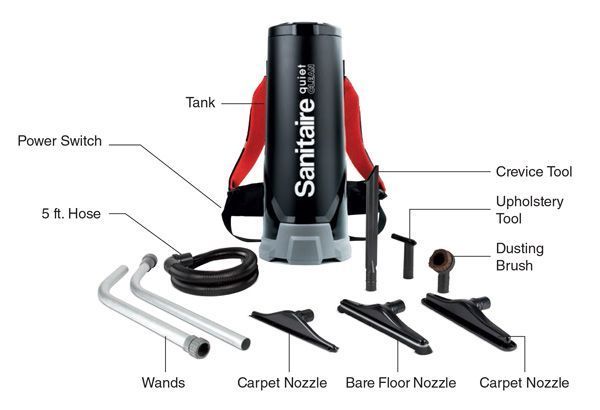 The secret behind the success of the Sanitaire SC530A vacuum cleaner lies in the load dispersion technology it relies on. Designed as a backpack model, it features a very comfortable harness which not only makes it easy to carry around the house, but also distributes the heat so that the user does not experience any discomfort while performing a cleaning task of any kind. However, apart from maximizing the user's comfort, this design also increases the cleaning efficiency, allowing the user to access all areas of the house very easily.
As expected, this increased mobility goes hand in hand with the small dimensions of this particular model, as well as with the highly convenient cleaning tools the Sanitaire SC530A is provided with. The 14-inch cleaning path, the 50-foot cord, the hose measuring 5 feet by 1.5 inches, the aluminum wands which measure 1.5 inches in diameter, along with the additional crevice tool, dusting brush and bare floor and carpet tools recommend it for both general and specialized cleaning tasks and therefore for all customers, regardless of surfaces involved or needs.

As mentioned earlier, the SC530A vacuum cleaner stands out through its very low noise production. However, despite reaching a maximum noise threshold of 62.5 decibels, it does not make any compromises in terms of power. With the amperage set at 11.5 amps, it produces 1,380 air watts and an airflow of 120 cubic feet per minute.
Of course, this power can only be useful if complemented by a proper filtration system, which in this case features four different levels. More specifically, the filtration process involves the air going through a motor filter, a cloth filter, a paper bag filter and, last but not least, a HEPA filter before being released again. Thus, its efficiency is maximized so that the environment is kept free from any kind of impurities as much as possible. A LEED certificate and a CRI Gold Label certificate both testify to the quality and efficiency of the micro allergen filtration system fitted on the SC350A vacuum cleaner. The 10-quart capacity of the dust bin must also be mentioned as one of the features that add to the convenience of this appliance.
With its selection of tools and accessories and an out-of-the-box design, the Sanitaire SC530A vacuum cleaner is the definition of convenience and productivity as far as vacuuming is concerned. Suitable for use in a wide range of commercial venues and industries, from education to food service and healthcare, it guarantees top efficiency and revolutionizes the concept of vacuuming, even more clearly so when used for team cleaning endeavors. It should also be noted that Sanitaire provides a 2-year warranty on this appliance, on both the labor and the parts.

Green Label Approved - The Sanitaire SC530 is a Carpet & Rug Institute (CRI) Green Label approved vacuum made to satisfy any job requiring a higher level of filtration. The CRI Green Label signifies a superior cleaning vacuum that has passed stringent testing for soil removal, dust containment and carpet appearance retention.The Carpet and Rug Institute seal of approval.

L.E.E.D Program - Sanitaire is a member of the U.S. Green Building Council which has developed the Leadership in Energy and Environment Design (LEED) program. For a vacuum cleaner to qualify for this designation it must be CRI approved and operated below 70dB. Sanitaire Quiet Clean models qualify and are designated with the statement "Meets LEED Requirements".
Specifications of the Sanitaire SC530A Commercial Backpack Vacuum
System Type

Bagged

Color

Black

Weight (lbs)

11.4000

Product Warranty

2 year limited warranty

Visual Interface

None

Power Cord Length(Feet)

50.00

Cleaning Path (Inches)

14.00

Capacity (Gallons)

2.50

Amps

11.50

Decibels

62.50

Max Air Watts

1380.000

CFM

120.000
Purchasing

Shipping

Quality
Write Your Own Review
What does the cord look like and where is it stored?
No answers yet. Be the first to answers the question!
does this come with all of the tools shown & the cloth filter bag?
No answers yet. Be the first to answers the question!
What gauge wire is the cord?
UL approved SJT insulation coated 16 gauge 3 wire cord.
Spec sheet indicates no neck movement for attachment yet detailed description states head swivels and can't confirm from pics. Please clarify. Thks
Yes the neck swivels. We will correct the typo, sorry for any confusion.
your phone number does not work
Our phone is in operation. If you continue to have a hard time reaching us please email support@thinkvacuums.com