Customer Reviews (

0

)
Question & Answers (

0

)
Read about the Sanitaire SC535A Backpack Vacuum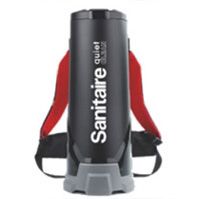 Sanitaire by Electrolux is introducing the all new Sanitaire SC535A backpack vacuums. Sanitaire has proved on countless occasions that it is one of the best manufacturers in the vacuuming industry, every Sanitaire appliance raising the bar a little higher in terms of air quality. Even the smallest of appliances achieve great cleaning performances. The Sanitaire SC535A vacuum cleaner is just another one in the line.
Very similar to its predecessor, the SC530A model, the Sanitaire SC535A vacuum cleaner focuses on user comfort and convenience while staying true to its manufacturer's reputation and delivering exceptional results in terms of air quality. Unlike the SC530A model, the SC535A vacuum cleaner relies on a sealed HEPA filtration system, thus outranking its predecessor on the air quality scale. Moreover, the CRI and LEED seals of approval certify its safety and recommend it for use by even the most sensitive of users. The filtration system is backed up by a highly performing motor which produces an airflow of 120 cubic feet per minute and 1,380 air watts at an amperage of 11.5 amps. However, this performance is not to be associated with high noise levels, Sanitaire manufacturers being very thorough about this particular aspect and managing to lower the noise production to 62.5 decibels only.

Of course, there is much more to the SC535A vacuum cleaner than its power, its highly efficient filtration system or its quiet operation mode. Convenience and comfort are two other keywords that characterize this appliance and the concept lying at its basis. The backpack design based on the load dispersion technology harness is intended to relieve the user from the traditional pressure that comes with vacuuming and therefore reduce fatigue while also allowing them to move across the surface in need of cleaning more easily. The same goals serve as explanations for the small of this appliance and its total weight of only 11.5 pounds.
The cleaning tools provided with the Sanitaire SC535A vacuum cleaner also contribute to an increased ease of motion and grant easier access to any dirty areas around the premises while also providing them with solutions regardless of the cleaning tasks they need to complete. These include the traditional dusting brush, carpet and bare floor tools and crevice tool, as well as a 1.5-inch wide aluminum wand. The cord also plays a major role in the increased mobility of this central vacuum, stretching as far as 50 feet, as does the hose, which measures 5 feet by 1.5 inches. Last but not least, the 14-inch cleaning path should also be added to this list of features.

Covered by a 2-year warranty on both the parts and labor, the Sanitaire SC535A vacuum cleaner is designed to meet a very wide range of needs, whether in terms of venues or air quality. Thus, it is a top solution for use in government buildings or the hospitality and food service industries, among many others, for users with increased sensitivity to various allergens, as well as a top choice for various team cleaning jobs.
Green Label Approved - The Sanitaire SC535 is a Carpet & Rug Institute (CRI) Green Label approved vacuum made to satisfy any job requiring a higher level of filtration. The CRI Green Label signifies a superior cleaning vacuum that has passed stringent testing for soil removal, dust containment and carpet appearance retention.

L.E.E.D Program - Sanitaire is a member of the U.S. Green Building Council which has developed the Leadership in Energy and Environment Design (LEED) program. For a vacuum cleaner to qualify for this designation it must be CRI approved and operated below 70dB. Sanitaire Quiet Clean models qualify and are designated with the statement "Meets LEED Requirements".
Information about the SC535 from Sanitaire
TIME to clear the air
-When indoor air quality is an issue, the Quiet Clean Time Machine with Sealed HEPA is the ideal solution for a HEPA level clean.
Less user fatigue with Load Dispersion Technology
-Harness design provides added comfort, balance and reduces heat dispersion, resulting in less user fatigue, reduced turnover and greater cleaning efficiency.
The Ultimate Time Trial
-When used as part of the Team Cleaning process, the Quiet Clean Time Machine will drive increased productivity.
The Quiet Clean Time Machine
-At less than 63dBA, the Quiet Clean Time Machine is ideal for cleaning locations where noise needs to be kept to a minimum.
All the extras included – Saves time
-Don't go searching for tools. You need the right tools at hand to get the job done, so the QuietClean Backpack comes with a large assortment of tools including attachments to clean every surface.
Specifications of the Sanitaire SC535A Backpack Vacuum
System Type

Bagged

Color

Black

Weight (lbs)

11.4000

Product Warranty

2 year limited warranty

Visual Interface

None

Power Cord Length(Feet)

50.00

Cleaning Path (Inches)

14.00

Filtration

hepa

Filter Type

Cartridge

Filter Washable?

Yes

Sealed System Construction

Yes

Capacity (Gallons)

2.50

Amps

11.5

Decibels

62.50

CFM

120.000
Purchasing

Shipping

Quality
Write Your Own Review
how do these work on carpet?
This vacuums is a commercial rated back pack and works great on all types of flooring.