Customer Reviews (

0

)
Question & Answers (

0

)
Read about the Sanitaire SC3683B Mighty Mite Canister Vacuum
The Sanitaire SC3683, also known as the Mighty Mite, is a commercial-grade canister vacuum from Sanitaire by Electrolux designed for both commercial and residential use. Aside from already being easy to maneuver, it also comes with a shoulder strap that allows you to carry it around with you as you clean. As can be expected, the Mighty Mite packs in all its features in a handy lightweight model. The SC3633 is highly recommended for restaurants, hotels and motels, golf clubhouses, schools, showrooms, and retail stores, among others, just as it is also a hit among homeowners.
Sanitaire SC3683B Overview
Combining commercial-grade performance with a price that's friendly to homeowners, the Mighty Mite is perfectly positioned right in between, thus serving those who would appreciate a high-performing unit that costs less.
This is highly recommended for restaurants, hotels and motels, golf clubhouses, schools, showrooms, and retail stores, among others, just as it is also a hit among homeowners.
Top Accessories of the Sanitaire SC3683B
To compete with the other canister type vacuums in the market, Sanitaire made sure the SC3683 Mighty Mite is equipped with some onboard tools and attachments. These include:
Metal telescopic wand
Dust brush
Crevice tool
10-inch deluxe nylon bristle floor and wall brush
Of all these, the dusting brush is the most unique as it features horse hair for bristles, making it extremely gentle. It won't leave any unsightly marks and scratches on your flooring and walls.
Benefits for the SC3683B Commercial Vacuum
For the Mighty Mite, along with some of their other canister and upright vacuum cleaners, Sanitaire chose to partner with ARM & HAMMER, a trusted name behind vacuum bags that are designed to enhance the filtration capabilities of the appliance. The ARM & HAMMER dust bags do not simply clear the dust and dirt from the air; they also help absorb unwanted odors.
The 7-foot hose gives you plenty of freedom to move around while cleaning.
With a noise level of just 71 dB, the Mighty Mite works relatively quiet.
At just 10 lbs., the SC3683 may be mighty, but it sure is not heavy.
This is a reasonably priced multi-use dual-purpose commercial and household canister vacuum model. It performs well enough for commercial users but is affordable and handy enough for home users. Many consumers find it attractive as an alternative to all those big, bulky, and intimidating canister vacs on the market.

Green Label Approved - The Sanitaire SC3683B is a Carpet & Rug Institute (CRI) Green Label approved vacuum made to satisfy any job requiring a higher level of filtration. The CRI Green Label signifies a superior cleaning vacuum that has passed stringent testing for soil removal, dust containment and carpet appearance retention.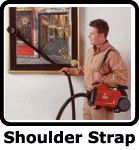 Sanitaire SC3683B Commercial Vacuum Features
Powerful 1200 watt / 10 Amp Motor / 135 cfm
Style MM Bags
Filtration : Allergen disposable bag
Dust bag capacity : 2.6 dry qt.
Dust bag installation : Easy drop-in design
Cleaning path : 10"
Cord Length : 20'
Sound level at operator : 71 dB
Cleaning Tools : Telescopic wand with deluxe floor and wall brush, crevice tool and dusting brush.
Hose : 7' molded
Product weight : 10 lbs
10" Cleaning Path
Deluxe dust brush
Upholstery nozzle
HEPA (Allergy Filter) Available for This Model - Order Above
2 YEAR Warranty
Specifications of the Sanitaire SC3683B Mighty Mite Canister Vacuum
System Type

Bagged

Color

Red

Weight (lbs)

10.0000

Product Width (Inches)

9.00

Product Height (Inches)

11.30

Product Length (Inches)

17.50

Product Warranty

2 Year Limited Warranty

Removable Powerhead

Yes

Visual Interface

None

Power Cord Length(Feet)

20.00

Cleaning Path (Inches)

10.00

Integrated Tool Storage?

Yes

Filtration

allergen

Capacity (Gallons)

0.65

Amps

10.00

Decibels

71.00

Max Air Watts

1200

CFM

135.000
Items Included in the Sanitaire SC3683B Mighty Mite Canister Vacuum
The Sanitaire SC3683B Mighty Mite Canister includes a Multi-Surface Tool , Dusting Brush , Crevice Tool , Upholstery Tool and a Two Piece Wand Set.
Purchasing

Shipping

Quality
Write Your Own Review
How long is the hose in this kit?
No answers yet. Be the first to answers the question!
Does this vacuum come with the hose?
The hose and all attachments are included with the purchase of a SC3683 vacuum.
What is the length of the cord?
Replacement bags for model 3683 type a sanitaire
The replacement bags are the style MM bags.
What sizes bags does it take and is there a HEPA filter for it?
The bags are 0.65 gallon dirt capacity style MM bags and the Sanitaire SC3683 can also use a Hepa exhaust filter.