Customer Reviews (

0

)
Question & Answers (

0

)
Read about the Duovac Air 10 4.7-Gallon System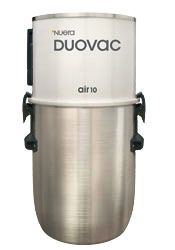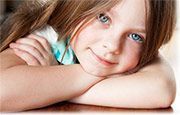 The DuoVac Air 10 is an entry level complete central vacuum system designed to cover up to 6,500 square ft. The Air 10 model has been engineered with quality in mind. It is powered by the newly developed Ametek-Lamb Advantek II – Plus flow-thru motor. It generates 694 air watts (suction power), 140.90" of water lift and 137.30 C.F.M.'s. The DuoVac Air 10 has a 4.7 gallon dust receptacle for easy debris disposal. This central vacuum is considered a hybrid system, may be used with or without a filtration bag. When used with a filtration bag, it performs a double-filtration for unparalleled air quality and prevents contact with dust and allergens. The filtration cage comes with a washable filter with Silpure, an antibactial coating, for superior air quality. Furthermore, when it is used with a disposable cloth (throw-away) bagged style, the unit becomes faster and hygeinic/easier to clean the unit every 4 to 6 months. By using a bagged style Duovac, this will prolong the motor life of your central vacuum for many years to come, making it more maintenance free. The Air 10 size, 11.4"w x 22.5"h, makes it adaptable to fit in a utility closet, laundry room, etc. It can be mounted to accommodate space requirements. The Duovac Air 10 is an outstanding all-inclusive product for a great economic value.
Aditional Information For The DuoVac air 10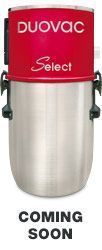 The fact that DuoVac manufactures only first class products should come as no news to anyone at least a bit familiarized with the vacuuming industry and its brands. Highly appreciated by specialists and consumers alike, DuoVac has always been trying to line up their products to the latest demands and standards in terms of vacuum cleaners. The DuoVac Air10 central vacuum cleaner makes no exception. Moreover, it makes a statement as regards this manufacturer's mission.
One of the most appealing things about the DuoVac Air10 central vacuum cleaner is that it displays a compact design but hides great power. Designed to generate 694 air watts, a water lift of 140.9 inches and a maximum airflow of 137.3 cubic feet per minute, this motor outranks most of the motors mounted on portable vacuum cleaners. In fact, it is five times more powerful. However, these values are characteristic to the US model. The version of the Air10 central vacuum cleaner available outside the United States is equipped with a motor that generates 580 air watts, a water lift of 136.7 inches and 126.1 cubic feet or airflow per minute. What the two models share is a very silent operation mode. Although the motors are very powerful, they are also very silent so that the appliances can be used without any reserves.
The filtration system on the Air10 central vacuum cleaner is equally efficient. Designed as a hybrid system, this central vacuum cleaner stays true to the DuoVac policy and ensures maximum protection against allergens of all kinds. Whether they prefer the bagged version or the bagless one is up to the customer. However, the bagged version tends to be a little more popular thanks to the double filtration it performs. Moreover, the chances of the user coming into contact with the impurities are reduced to zero. Similarly to all the other DuoVac vacuum cleaners, the removal of the filter does not pose any problems. As for the capacity of the canister, the user can store up to 4.7 gallons of dust before having to empty it. This is a canister made of brushed aluminum very easy to attach and detach thanks to its two ergonomic handles and built-in latches.
In fact, the entire design of the DuoVac Air10 central vacuum cleaner is both practical and very good-looking. The finish is high-end and the size of the appliance is chosen so that it can be used in apartments or small houses. Thus, it is 57 cm tall and has a diameter of 29 cm, so it is compact enough to fit in any kind of space, no matter how small. The special design also includes LED lights mounted on the power unit to draw the user's attention to any technical problems that might interfere with their cleaning.
Available with both basic wireless technology and low voltage technology, the DuoVac Air10 central vacuum cleaner comes with a lifetime warranty, as is standard with this manufacturer. Thus, DuoVac guarantees that this appliance meets the highest quality standards and is designed to deliver high quality cleaning results in the long run. In other words, they guarantee convenience and efficiency integrated in a central vacuum cleaner homeowners can rely on in the long run.
As the corporate mission states: "Nuera Air strives to be the world leader in innovation, design and production of central vacuum systems and air solutions that provide a better living environment for residential and commercial markets. Our products are the most convenient, best performing and durable in the industry."
DuoVac air 10 Power Unit Features

All of the Duo Vac central vacuum power units are built with DuoLife long lasting Ametek-Lamb motors. There are choices of filtered cyclonic or paper bag systems. The high performance Duo-Fibre Quick filtration system has been designed to last the life of the machine and has one of the industries largest filtering areas. This has two important benefits…it prolongs the motor life and maintains suction power. Additionally, the German engineered Herculon triple layered spot welded filter media has the capacity to filter particles as fine as flour or gypsum board dust at 0.1 micron @ 97.5% efficiency while maintaining its "breathability" and power. The units may, also, be equipped with the innovative "whisper quiet" DuoAcoustic silencing technology. The Silentium, also, includes the DuoSmart "intelligent" service indicator module. The LED pressure sensitive and timing initiated displays, both on the power unit and on the hose handle note the emptying, cleaning and maintenance intervals. Some of other standard and time proven Duo Vac features include: a seamless rust resistant aluminum and steel canisters, the oval shaped cyclonic enhancing bottom canisters, baked epoxy powder scratch resistant paint on all interior and exterior surfaces, a washable and reusable filter medium, a compression mounted motor assembly, anti-vibration gasketed housing ports, the DuoLife motors with up to 1,500 hours carbon brush life, and large light weight DuoMax 5, 6 and 9 gallon capacity dust cannisters.
Features:
-A compact model of truly superior quality
-Extremely low noise level
-High-performance filtration system for superior air quality
-Hybrid system:
May be used with or without a filtration bag
-Using a filtration bag will:
execute a double-filtration for unmatched air quality
prevent contact with dust and allergens
-Compact and easy to install, ideal for apartments, houses and other smaller residences
-High-end design and finish
-Brushed aluminum 21.1-liter capacity canister with new ergonomic handles with integrated latches for ease of operation
-LED status instructions integrated on power unit
-Powerful motor (up to 5 times stronger than a portable vacuum)
-Two unique technology packages to choose from:
-basic wireless technology
-low-voltage technology
Convenience:
-DuoVac has manufactured their central vacuum systems to offer convenience. Here are some of the reasons why DuoVac central vacuums are considered to be extremely convenient:
-Maintenance of the central vacuums are easy
-The DuoVac central vacuums are available with custom-fitted accessories
-They offer more vacuuming power compared to any other standard vacuum cleaner or any portable units. This basically means that you will never have to vacuum the same area twice over
-The central vacuum systems by DuoVac have a strong and effective filtration system as a result no venting is required
-The central vacuums are available with re-usable, machine-washable filters
DuoVac central vacuums are available with large capacity dust receptacles with a maximum of up to 36 liters. This helps in reducing the total number of times you might need to empty it. All DuoVac central vacuum systems have been manufactured using the highest standard of materials and vacuum cleaner parts, which minimizes service requirements and calls.
Specifications of the Duovac Air 10 4.7-Gallon System
Square Footage

6500

Waterlift

141.000

Max Air Watts

651

CFM

116.800

System Type

Hybrid

Product Warranty

Lifetime/ 25 /5 Year

Unit Size Option

4-Gallon

Capacity (Gallons)

4.70

Color

Silver

Product Width (Inches)

11.40

Product Height (Inches)

22.50

Product Length (Inches)

11.40

Visual Interface

None

Motor Status Indicator?

Yes

Bag Full Indicator?

Yes

Replace Filter Indicator?

Yes

Filter Type

Caged

Filtration

hepa

Filter Washable?

Yes

Voltage

120

Amps

12.00

Decibels

57.00

Utility Valve?

Yes

Motor Name

MOT-209 , Ametek Lamb # 122288
Check items to add to the cart or select all
The DuoVac HEPA Type Filter is made to keep your indoor air clean and fresh. Thi...
Purchasing

Shipping

Quality
Write Your Own Review
Where is the inlet on the duovac air 10
The unit does not have a port built into it, but comes with a utility inlet kit that gets plumbed into the intake line. This will allow you to be able to connect a hose to the unit.