Customer Reviews (

0

)
Question & Answers (

0

)
Read about the DuoVac Nuera Filtre-189 Bags
DuoVac Filtre-189 Bags for central vacuums will prevent you from having to handle the dirt, dust and debris accumulated over months of vacuuming. The DuoVac Filtre-189 Bags fits the Spirit & Air 10 Series, this bag traps 99.98% of ragweed and common grass pollens, filters airborne particles including dander, spores and more. Ideal for many with allergic or dust related discomforts. When emptying your canister, vacuum bag units are much cleaner than non-bag central vacuums. It is very important for maintaining your central vacuum to frequently change your central vacuum bags. We recommend changing your Filtre-189 Bags every 3 to 4 months for the best performance from your central vacuum.
We only believe in genuine DuoVac parts to be used with your DuoVac central vacuum. An DuoVac Filtre-189 Bags for central vacuums is not only more hygienic, it also helps capture tiny particles from reentering the indoor air around you! What does all this mean? Well... a vacuum bag creates cleaner air which allows you to breathe easier, a bag eliminates handling dirt, and finally the Filtre-189 Bags is simple to change and dispose of!
The DuoVac Filtre-189 Bags fit the following central vacuums:
DuoVac Spirit

(DISCONTINUED)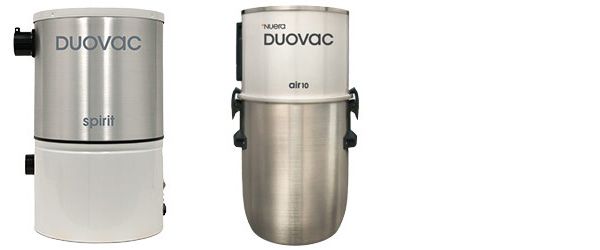 Specifications of the DuoVac Nuera Filtre-189 Bags
Qty Per Pack

3

Color

White

Scheduled Maintenance

4 Months

Capacity (Gallons)

3.20

Bag Type

Paper

Bag Fill Style

Top Fill

Layers

2

Bag Filtration

Standard

Filtration Efficiency

99.9800
Purchasing

Shipping

Quality
Write Your Own Review
do any of the central vac systems come with tools like hoses or carpet beater. if there is no filter how does it clean the air
We offer individual sales of central vacuums and also complete packages please call our staff for more information.
Can I replace my 30 year old central vac system with one with retracting hoses? If so. What is involved?
If you are looking to install a retractable hose system you will have to either make a cavity in a wall or replace the piping to accommodate the retractable hose. It all depends on what system you are looking into. Please contact our staff to discuss than
is an operation manual available on line
At this time we don't supply a operation manual online for this product, but you can always check the manufacturers website as they have it listed there.