Customer Reviews (

0

)
Question & Answers (

0

)
Read about the NuTone CH615 Electric Hose 30FT
About NuTone CH615 30ft Electrical Hose for Central Vacuums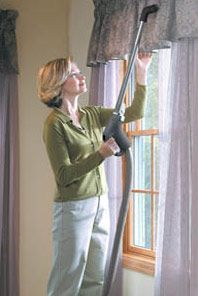 There are a number of characteristics a vacuum hose must have in order to be considered a high quality one, such as great resistance, great convenience and great ease of use. The Nutone CH615 hose has them all, thus being one of this manufacturer's most popular electric hoses.
Many of its features are specific to the whole range of Nutone electric hoses, starting with the design of the handle and continuing with the diameter of the hose end. It is well known that Nutone designers always aim for increased control and comfort levels with their hose handles and once again they seem to have found the key to increasing both. The handle of the CH615 electric hose features an on/off switch for an easier control of the vacuum system, an ergonomic swivel for lowering the strain on the user's hand as well as a hose hanger for fixing the hose when resting. The comfort and convenience increase further thanks to the 27% greater airflow this hose releases through its 1.25-inch opening and to the 17.5 x 17.5 x 9.5 inches it measures in size, the 8.8 pounds it weighs as well as its 30 feet of length.
The stylish direct connect Nutone CH615 hose available in a frost white color is specially designed to be fitted into a number of wall inlets, which include the Nutone CI390 and CI395 models, as well as the Electrovalves or the Supervalves made by Hayden. Its connection to any other wall inlets is associated with a high risk of electrical shock, despite the UL seal of approval it bears.
Information about the CH615 30ft Electrical Hose from NuTone
Current-carrying hoses bring the power to wherever your vacuum reaches. This light-weight, flexible hose includes a direct-connect plug-in to use with electrified inlets. Convenient and useful with many floor tools, a current-carrying hose will make vacuuming easier and faster.
- 30-Foot hose gives you the reach you need to cover a lot of territory before you move on to the next inlet, so you spend more time vacuuming and less time moving the hose around. Use with NuTone CI390 and CI395 series Inlets, Electrovalve® and Hayden Supervalves®
- CH615 is lightweight and crushproof, so that means if it is accidentally stepped on or caught in a door, the hose springs back to retain its original state
- Soft touch-grip handle has a full 360 degree swivel and ergonomic hand positioning for a comfortable grip and a 3-position thumb-slide on/off switch for easy operation to speed up your cleaning time
- Designed for use with CT700 Deluxe Electric Power Brush and NuTone CI358, CI390 and CI395 series electrified inlets for choice and flexibility
- UL Approved to assure reliability and confidence; includes convenient storage hanger to store hose when not in use
WARNING: To reduce the risk of electrical shock, use only with NuTone Built-in Central Cleaning System CI390 and CI395 Series Inlets
NuTone CH615 30ft Electrical Hose Specifications
Standard pack . . . . . . . . . . . . . . . . . . .1 each
Weight . . . . . . . . . . . . . . . . . . . . . . . . . .7.3 lbs
Carton Size . . . . . . . . . . . . . . . . . . . . ..13" W x 9" H x 23" D
UPC . . . . . . . . . . . . . . . . . . . . . . . . . .7 84891 77927 5
NuTone CH615 30ft Electrical Hose Features
30 ft. frost white 1 1/4" inner hose diameter
For use with NuTone CI390 and CI395 series Inlets, Electrovalve® and Hayden Supervalve®
Three position on-off switch controls both the power unit and motorized power brush
Ergonomic swivel handle
Hose hanger and mounting hardware included
UL recognized
Patent Pending Universal Hose End
Specifications of the NuTone CH615 Electric Hose 30FT
Select Hose Size

30-Foot

Hose Length(Feet)

30

Hose Type

Electric High Voltage

Crushproof

Yes

Air Relief/Bleeder Valve?

Yes

360° Swivel Handle

Yes

Ergonomic Handle

Yes

Connection Type

Direct Connection

Color

Grey

Diameter (Inches)

1.25
Purchasing

Shipping

Quality
Write Your Own Review
Hi. I bought a Sebo Pro ET-2 from you guys last year. It has worked very well. Now, my original (1999) NuTone direct connect hose has died. Is this replacement hose the appropriate hose for me? Will it work with my new Sebo?
No answers yet. Be the first to answers the question!