Customer Reviews (

0

)
Question & Answers (

0

)
Read about the ProTeam Sierra Commercial Backpack Vacuum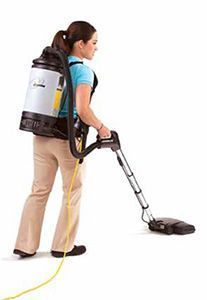 The Proteam Sierra backpack vacuum cleaner is one of the easiest vacuums to carry around for it weighs no more than ten pounds and its dimensions are small. Therefore, the user does not have to waste any energy on pulling or pushing it around the house as it is the case with other vacuum cleaners. The mountaineering-style design also weighs heavily from this point of view. However, the filtration abilities and power of this vacuum cleaner show just how irrelevant the size of a vacuum cleaner can be if it is designed properly. The Proteam ProTeam Sierra use disposable bags.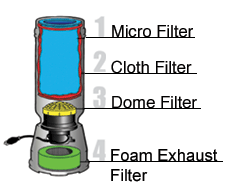 The ProTeam Sierra vacuum cleaner uses Intercept micro filters and a four-level filtration system to reach a yield of 99.9% against all particles that measure at least one micron, whether dust particles, dust mites or pollen particles. The Intercept micro filter media measures 454 square inches in size while the four-level filtration can cover 701 square inches and, more importantly, they eliminate the need for follow up dusting. As for the power produced, the motor fitted on this vacuum cleaner is a 6.2 amp and 744 watt one which produces 124 CFM of airflow and only 68 decibels of noise. The static lift is set at 75 inches. The package also includes a dissipating hose, a 50-foot long cord and a tool belt for easier use of the accessories, which make this vacuum cleaner even easier to use. So does its low profile design which allows it to capture the harmful particles settled in the most inaccessible places around the house.
Additional benefits of the ProTeam Sierra


ProTeam Green Builders Council LogoProTeam Sierra Bronze CertificateThe Sierra backpack vacuum cleaner has been certified as sustainable cleaning equipment by the US Green Building Council, meeting the standards set by its LEED rating system. Moreover, it bears a Bronze seal of approval from CRI (The Carpet and Rug Institute), which certifies its high efficiency and superior performance as far as the quality of the indoor air is concerned.
Provided with a three-year warranty on the labor, motor and components and a lifetime one on the body, the ProTeam Sierra backpack vacuum cleaner is a versatile, ergonomic and lightweight appliance which can stand up to any cleaning test. It comes with all the guarantees one may need when searching for a good vacuum cleaner and it also has a few particularities which increase its value and make it more than just another backpack vacuum cleaner.
ProTeam Sierra Product Warranty
Carries a 3/3/3/Life warranty - 3 years on parts, labor and motor* and lifetime on the molded body parts. * 5 Year motor warranty when purchased with a restaurant kit.
Specifications of the ProTeam Sierra Commercial Backpack Vacuum
System Type

Bagged

Color

Grey

Weight (lbs)

10.0000

Visual Interface

None

Power Cord Length(Feet)

50

Capacity (Gallons)

1.50

Amps

6.2

Decibels

68

CFM

124

Motor Watts

744
Check items to add to the cart or select all

Purchasing

Shipping

Quality
Write Your Own Review
No questions yet. Be the first to ask the question!