Customer Reviews (

0

)
Question & Answers (

0

)
Read about the Sanitaire SC412B Commercial Backpack Vacuum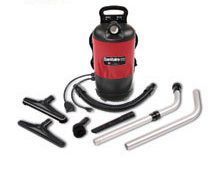 The Sanitaire SC412-B, also dubbed as the 'commercial backpack' vacuum cleaner, is designed for quick and light cleaning applications, most particularly in hard-to-reach areas. Although it is important for this model to be lightweight and handy, performance is still a tricky issue since it has to be able to get rid of all kinds of dirt and debris in just a short time. That's why Sanitaire decided to pack a lot of punch into this unique offer.
But why is it called a 'backpack'? Well, it's simply because it comes with an ergonomically designed back harness that allows you to strap the vacuum to your back as you clean. The harness is not at all difficult or heavy to handle for anyone, even home users. As a very unique product, the SC412-B certainly has its own niche market. The Sanitaire Sc412 must be used with a disposable paper bag.
Sanitaire SC412B Overview
The SC412-B is a highly recommended and very unique vacuum cleaner configuration for those with very specific needs. Although built for lighter cleaning purposes, the flexibility that the backpack vacuum offers is yet unmatched.
Top Accessories for the Sanitaire SC412B
Its small size does not keep it from having a few extra surprises up its sleeve. The backpack vacuum also comes with:
-1 ½ inch cleaning accessory
-Adjustable 'S' wand
-Carpet nozzle
-Bare floor nozzle
-Crevice nozzle
-Dusting brush
Of all these features, the most unique is the S wand, which, instead of being straight, is actually in the shape of an 'S'. The purpose of this wand is so that you can easily reach around and under your furniture while cleaning.
Benefits for the SC412B Commercial Vacuum
-Despite its smaller size or configuration, the SC412-B commercial backpack is UL listed for commercial applications. But since it is very convenient to use, it is also great for use at home.
-With the adjustable wand, the SC412-B can reach low, high, behind, and under furniture and other fixtures; it is great for meticulous users who really want to clear those corners and crevices of dust and debris. This commercial backpack vacuum offers so much flexibility that it's a must-have especially if you are not willing to invest in a full-sized vacuum.
-Aside from being ergonomically designed, the SC412-B's shoulder and waist straps are adjustable so you can clean comfortably.
-The Sanitaire backpack vacuum is certified by the CRI Green Label, which awards a Seal of Approval to all models that meet its green criteria.
-With a 71 dB noise level rating, the SC412-B whispers while it works.
-Despite its size, the Sanitaire commercial backpack boasts of a full 1400-watt motor, which has even more power than many full-sized models.
-Employing a 4-stage filtration system, the SC412-B can really help clear the air of dust and allergens.
-The backpack vacuum weighs only 11.5 lbs., which is to be expected from a model that's positioned as an appliance that can be carried on one's back. At this weight, the SC412-B is already easy enough to carry around.
-Take note that the 50 foot power cord can be detached so you can move freely around.

Green Label Approved - The Sanitaire SC412B is a Carpet & Rug Institute (CRI) Green Label approved vacuum made to satisfy any job requiring a higher level of filtration. The CRI Green Label signifies a superior cleaning vacuum that has passed stringent testing for soil removal, dust containment and carpet appearance retention.The Carpet and Rug Institute seal of approval.

L.E.E.D Program - Sanitaire is a member of the U.S. Green Building Council which has developed the Leadership in Energy and Environment Design (LEED) program. For a vacuum cleaner to qualify for this designation it must be CRI approved and operated below 70dB. Sanitaire Quiet Clean models qualify and are designated with the statement "Meets LEED Requirements".
Specifications of the Sanitaire SC412B Commercial Backpack Vacuum
System Type

Bagged

Color

Red

Weight (lbs)

11.5000

Product Warranty

Two Years Limited Warranty

Visual Interface

None

Power Cord Length(Feet)

50.00

Cleaning Path (Inches)

12

Filtration

hepa

Capacity (Gallons)

1.50

Amps

8.50

Decibels

69

Max Air Watts

1380.000

CFM

120.000
Check items to add to the cart or select all

Purchasing

Shipping

Quality
Write Your Own Review
Is a cloth shake - out bag included with the vacuum ??
Yes it is included with the purchase.