Customer Reviews (

0

)
Question & Answers (

0

)
Read about the Sanitaire SC6088B Heated Carpet Extractor
Sanitaire SC6088B Heated Carpet Extractor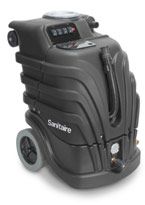 The Sanitaire SC6088B Commercial Carpet MachineThe Sanitaire SC6088 is the ultimate big wheel portable 10 gallon heated carpet extractor with a 12-amp 2-stage motor that offers 150 inches of water lift. Basically identical to the Sanitaire SC6085, except the SC6088 cleans more efficiently with hot water! The heated water helps break down soil, grease, and oils much easier to be picked up faster. Combined with its 12 inch single jet wand, 15 inch hose, and 100 PSI of water pressure, the Sanitaire SC6088 carpet extractor can clean entire rooms in record time. The SC6088 is easy to use even for beginners, this machine has a built in handle and 10 inch wheels to make it easy to maneuver around, up some stairs, curbs, or even load onto a truck.
A few of the key features of the Sanitaire SC6088 are:
Electrical buttons that are independently controlled
Front mounted switches and pressure controls
Front mounted drain hose


Why Sanitaire?
Brand Awareness – More than 9 in 10 cleaning services (93%) named Sanitaire in overall brand awareness.
Quality – The Sanitaire brand was rated #1 in overall quality by cleaning services.
Innovation – Sanitaire develops thoughtful cleaning solutions by designing products based on focus group data collected from actual End Users.
Value – The Sanitaire brand was rated #1 in overall value by cleaning services.
Green Cleaning – With one of the best filtering uprights in the industry, Sanitaire provides the widest variety of CRI certified vacuums. In addition, Sanitaire offer 7 vacuums that meet LEED requirements.
Reputation – Cleaning services indicated that the primary upright vacuum they used was a Sanitaire. Prior experience with the brand was the most often (70%) cited reason for brand selection. A majority (90%) are likely to purchase the same brand again.
Service – The Sanitaire brand was rated #1 in ease of maintenance by cleaning services. Sanitaire is backed by a network of nearly 1200 warranty service centers across the United States.
Warranty - Sanitaire products are backed by the Sanitaire Promise of Performance warranty which warrants parts, materials, workmanship and labor to further reduce maintenance costs and downtime.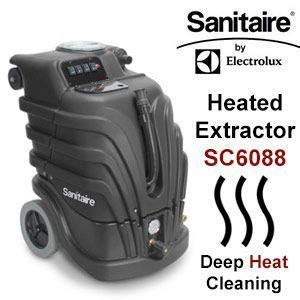 Sanitaire SC6088B Carpet Machine Features
12-amp 2-stage 150-inch water lift motor
100 PSI pump
150 inch water lift
10 gallon tank capacity
Big rear mounted wheels
Hose Length : 15-foot hose
Cord length : 50'
Cleaning Wand : 12-inch Single Jet
Brushroll : not available
Product Weight : 84 lbs.
UL listed for commercial use
Commercial Quality
1 Year Parts & Labor Warranty
Package Dimensions - n/a
Package Weight - 110 lbs.
Color - Black
Specifications of the Sanitaire SC6088B Heated Carpet Extractor
Solution Tank Size

10

Recovery Tank Size

10

Pressure(PSI)

100

Waterlift

150.000

Amps

12.00

Cleaning Wand(s)

12" Single Jet

Hose Length(Feet)

15

Motor Stages

2

Color

Grey
Purchasing

Shipping

Quality
Write Your Own Review
No questions yet. Be the first to ask the question!