Customer Reviews (

0

)
Question & Answers (

0

)
Read about the Sanitaire SC889A Commercial Upright Vacuum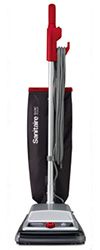 Sanitaire SC889A Commercial Vacuum
The Sanitaire SC889-A is part of Sanitaire's Quiet Clean collection of upright vacuum cleaners designed for commercial use. It is currently one of the series' standout models thanks to a number of unique features that cannot be found in the other models offered by the brand. Positioned as one of Sanitaire's premium models, this vacuum cleaner is packed full of features and certifications.
Top Accessories of the SC889A
The primary tool used by the SC889-A is a specially designed Vibra-Groomer II ball-bearing brush roll, a tool that has received several positive reviews for its ability to clean conveniently and effectively.
Sanitaire SC889A Overview
As part of the Quiet Clean series by Sanitaire, the SC889-A meets the LEED requirements, which means its noise level is less than 70 dB and the unit itself meets CRI Green Label certification standards. Not only that, but this unit also conforms to OSHA specifications for commercial usage. All these mean only one thing: the SC889-A is truly the ideal choice for all commercial establishments who have high needs and high standards.
Benefits for the SC889A Commercial Vacuum
The SC889-A is UL listed for commercial use and is certified by the CRI, which is signified by the CRI Green Label. Its noise level is also controlled at just 69 dB. As such, it is considered as one of the select commercial vacuum cleaners in the market that meets the stringent LEED requirements.
The SC889-A has a major advantage over other Sanitaire models, making it the brand's cream of the crop, thanks to its large 6.1 dry quart capacity.
With a single flip of the switch, you can easily move between the normal and the Quiet Clean modes, thanks to the convenient fingertip controls of the SC889-A.
The SC889-A uses a special Micron Filter system to capture and retain up to 99 percent of dust and other allergens such as pollen. This system works especially with ST 63213 disposable bags that help ensure the dust and dirt don't escape even when the bag is disposed of.
It is easy to replace the dust bag thanks to the easily accessible dual zipper bag design.
The SC889-A's motor comes in two speeds, a low and a high speed, so you can use the setting that's most appropriate to the task at hand.
As part of the Quiet Clean series, the SC889-A is designed with the cooperation of ARM & HAMMER, the name behind the specially designed vacuum bags that the model uses. The ARM & HAMMER vacuum bags are noted for their ability to retain fine dust particles, even those that are microscopic in size. However, the best feature of ARM & HAMMER dust bags is how it also neutralizes odor in the atmosphere. The SC889-A, therefore, does not just clean the air, but also freshens it up.
The Carpet and Rug Institute seal of approval.
With a 50-foot power cord, the SC889-A is capable of cleaning large areas without having to stop every once in a while to change outlets.
Users can choose from 6 different heights to match the height or thickness of the floor surface that they are cleaning. If you are cleaning thick, heavy pile carpets, then you can set the vacuum cleaner at its highest level.
At just 16.6 lbs., the SC889-A is lighter than its contemporaries.

Green Label Approved - The Sanitaire SC889A is a Carpet & Rug Institute (CRI) Green Label approved vacuum made to satisfy any job requiring a higher level of filtration. The CRI Green Label signifies a superior cleaning vacuum that has passed stringent testing for soil removal, dust containment and carpet appearance retention.The Carpet and Rug Institute seal of approval.

L.E.E.D Program - Sanitaire is a member of the U.S. Green Building Council which has developed the Leadership in Energy and Environment Design (LEED) program. For a vacuum cleaner to qualify for this designation it must be CRI approved and operated below 70dB. Sanitaire Quiet Clean models qualify and are designated with the statement "Meets LEED Requirements".
Sanitaire SC889A Commercial Upright Vacuum Features
Powerful Motor (7 amps, 840 watts, 145 CFM)
Filtration : Synthetic Media Filtration - Filters 96.75% of allergens down to .03 microns in size
Brushroll : VGII, double ball bearing chrome steel with replaceable bristle strips.
Easy Access Dual Zipper Bag
Wide 12" Cleaning Path
Super long 50ft. quick change power cord
Lightweight 16.6 lbs
6.1 dry quart Dust Bag
Decibel Level : 69dB
2 Speed Motor (Off/Low/High)
Dust Bag Installation : Easy access dual zipper bag
Meets LEED Requirements : Yes
2 YEAR Warranty
Specifications of the Sanitaire SC889A Commercial Upright Vacuum
System Type

Bagged

Color

Black

Weight (lbs)

16.2000

Product Warranty

2 Year Limited Warranty

Visual Interface

None

Power Cord Length(Feet)

50.00

Cleaning Path (Inches)

12

Capacity (Gallons)

1.53

Amps

6.5

Decibels

69

Max Air Watts

840

CFM

145.000
Purchasing

Shipping

Quality
Write Your Own Review
No questions yet. Be the first to ask the question!