Customer Reviews (

0

)
Question & Answers (

0

)
Read about the Sanitaire SC9180B Commercial Upright Vacuum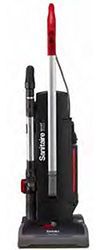 The Sanitaire SC9180-B by Electrolux is one of Sanitaire's special dual motor vacuum cleaners; it also happens to be one of the most durable of its kind. Equipped with dual powerful motors developed for a full-size commercial vacuum and with a variety of easy to use features, the SC9180-B offers long-lasting and user-friendly performance. Due to all these, the SC9180-B is known for being one of the most convenient and user-friendly dual motor vacuums.
As for the quality of its results, the HEPA filtration system can speak for itself, making this a great choice for commercial establishments where the standards for air cleanliness and hygiene is high, such as restaurants, hospitals, and hotels.
The SC9180-B is the replacement for the SC9180-A, the previous discontinued dual motor commercial unit from Sanitaire.
Top Accessories
The SC9180-B is complemented by a wood brush roller with TrueBalance double ball bearing and a patented telescopic wand that comes with a retractable dust brush. This makes it a better value and a more effective package compared to other Sanitaire commercial vacs, many of which do not come with a telescopic wand. The addition of the wand expands the possible uses of the cleaner by a huge margin by allowing it to be used for cleaning far or high hard-to-reach areas such as ceiling corners.
Take note that the Sanitaire SC9180-B comes with the corresponding attachments.


Sanitaire SC9180B Overview
For superior heavy-duty cleaning needs, the SC9180-B is undeniably more sufficient compared to other Sanitaire vacuum cleaners and even vacuum cleaners from other brands, thanks to its dual motor system.
Benefits for the Sanitaire SC9180B Commercial Vacuum
With a dual 1380-watt motor, the SC9180-B is hands down one of the most powerful upright vacuum cleaners around.
Thanks to the built-in HEPA filtration system, the SC9180-B can clear the air of even the smallest, unseen dust particles and pollens that often trigger allergy attacks. If you are looking for a vacuum cleaner for a restaurant, hospital, or hotel, it is best to go for a HEPA filtration model to make sure that any customer or guest that happens to be sensitive to allergens will be safe from allergy triggers.
The ergonomically designed loop handle is easier on the wrist and also provides a good grip with its soft grip feature.
The SC9180-B meets LEED requirements, which means its noise level does not go over 70 dB and that it is CRI approved. Sure enough, the vacuum cleaner's decibel level is only 67 dB, making it part of Sanitaire's Quiet series, while every model of the SC9180-B is backed by the CRI seal.


This upright commercial vac uses washable filters, which reduces the operating costs as you don't need to replace the filter when it gets dirty. With an extra wide air path, clogs can be avoided, which means downtimes are also eliminated.
The SC9180-B is UL-listed for commercial use.
Green Label Approved
- The Sanitaire SC9180B is a Carpet & Rug Institute (CRI) Green Label approved vacuum made to satisfy any job requiring a higher level of filtration. The CRI Green Label signifies a superior cleaning vacuum that has passed stringent testing for soil removal, dust containment and carpet appearance retention.

L.E.E.D Program - Sanitaire is a member of the U.S. Green Building Council which has developed the Leadership in Energy and Environment Design (LEED) program. For a vacuum cleaner to qualify for this designation it must be CRI approved and operated below 70dB. Sanitaire Quiet Clean models qualify and are designated with the statement "Meets LEED Requirements".
Specifications of the Sanitaire SC9180B Commercial Upright Vacuum
System Type

Bagged

Color

Black

Weight (lbs)

20.0000

Product Warranty

2 year limited warranty

Visual Interface

None

Power Cord Length(Feet)

50.00

Cleaning Path (Inches)

13

Integrated Tool Storage?

Yes

Filter Type

Cartridge

Filtration

HEPA

Filter Washable?

Yes

Sealed System Construction

Yes

Capacity (Gallons)

1.00

Amps

11.30

Decibels

67.00

Max Air Watts

1380

CFM

119.000

Quantity of Motors?

2
Purchasing

Shipping

Quality
Write Your Own Review
No questions yet. Be the first to ask the question!