Customer Reviews (

0

)
Question & Answers (

0

)
Read about the SEBO Automatic X5 9580AM White Upright Vacuum

White SEBO Automatic X5 Vacuum Cleaner
One of the most popular household vacuums in Europe and now available in the U.S. The White Automatic X5 9580AM is made in Germany. A recommended "Best Buy" by a leading consumer report magazine in Europe.
Power through Efficiency
Active Height Control, a Timing Belt-driven Brush Roller, and an Intelligent Filter Configuration allow the white automatic X5 series to clean effectively while using less energy.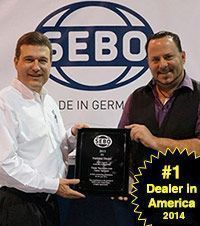 Automatic X5 White #9580AM Upright Vacuum Features
Low profile 5 1/2" tall when laying flat to the floor
True automatic height adjustment contours to any surface
Easy to reach on-board tools including ready-to-use attachments
Powerful 1300 watt motor - plain and simple, get the work done
Extra-wide 15" Cleaning Path - Saves time, covers a wider area
Commercial grade heavy-duty German engineered motor
FACT:
For the third consecutive year, Thinkvacuums was voted the #1 SEBO Dealer in the US.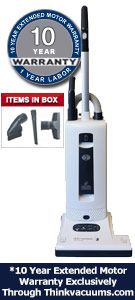 White SEBO Automatic X5 9580AM Features Include: S-Class Filtration: 3 layer filter bag, electrostatic micro filter, and exhaust filter. The SEBO will filter out at the S-Class Standard which is 99.97% of dust particles at .3 microns in size. For dust particles of 1 micron or larger, the filtration rate is 100%. The bag comes off with the front cover to make it easier to throw away without getting dust all over yourself. The bag can be sealed, preventing dust from escaping when you seal the cover. The excellent filtration qualities of the SEBO helps conditions such as rhinitis, hay fever, and eczema.
Automatic Height Adjustment: The SEBO automatically senses the level of the carpet or hard floors. This is controlled by a micro processor, keeping the brush at the optimum cleaning level, even compensating for brush wear. If the brush becomes jammed, it will automatically shut the machine off, preventing damage to the brush, belt and whatever you picked up.
Two Choices: The SEBO Automatic X Series vacuum cleaners are available with a 12" cleaning path (Automatic X4) or 15" cleaning path with an extra long "L" shaped vacuum head for wider cleaning distance (Automatic X5).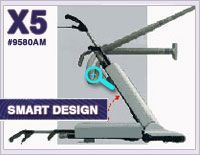 Attachments: Easy to use, pull out attachments, long reach hose, wand, furniture nozzle, and dusting brush. The attachments are easy to use and work extremely well.
Smart Design: If the SEBO becomes jammed or the bag becomes full, the vacuum will turn itself off automatically. The brush pops out with the push of your thumb. You can not turn the machine on without a bag being in properly. The low 5 1/2" profile allows it to easily go under furniture. The 40 ft. cord gives you tremendous cleaning reach. The cogged belt does not slip like your typical rubber belt on most vacuums and is guaranteed for 3 years.
Warranty Information - White SEBO Automatic X5 Model Number 9580AM:
10 Year Extended Motor Warranty / 3 Year Warranty on Parts and Accessories
Automatic X5 Features & Specs
Suction Motor: 1300 Watts
Brush Motor: n/a
Airflow (motor rating): 103.8 CFM
Water Lift (motor rating): 95 in.
Belt Guarantee: Lifetime
Height Adjustment: Electronic
Suction Motor Protection: Electronic
Bag Capacity: 1.4 gal.
Handle Weight: 1.5 lbs.
Body Weight: 16.9 lbs
Variable Suction control: No
Bare Floor Cleaning: Yes
Dusting Brush included: Yes
Cleaning Wand Included: Yes
Cord Length/Range: 40 ft.
Power head Width: 15"
Hose Length: 6 ft.
S-Class Filtration: Yes
Adjustable Handle: No
HEPA Filtration Available: Yes
Use Without Power Head: No
Brush Height Settings: Automatic
Brush Wear Compensation: Automatic
Brush Speed: 3100 RPM
Sound Level: 69 dBA

Additional Features & Specifications For White SEBO Automatic X5 9580AM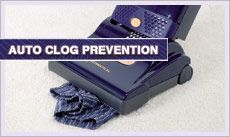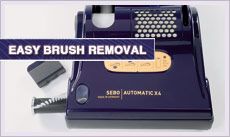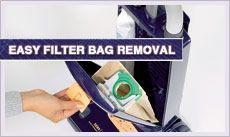 Instant-use Wand and Suction Hose


The integrated SEBO Accessories including an instant-use wand and suction hose are always ready. Just pull out either tool, or both together, to clean hard-to-reach corners, edges and crevices. The wand and hose together have an eight-foot reach. The suction hose is ideal for cleaning furniture. And an optional nine-foot extension hose is available, which creates a total hose length of 15 feet... perfect for cleaning stairs. Choose from a range of optional attachments that can be fitted to the wand or hose!

A Low 5 1⁄2-inch Profile


Lower the handle flat to the floor to clean under beds, or lower it to the intermediate stop position to maneuver over rugs. Depress the foot pedal again to bypass the intermediate stop position, or close this position by moving the orange handle-position slider.

Automatic Height Adjustment: From Hard Floors to Carpets


The electronic controller adjusts the Power Head up or down to the appropriate brush height, providing optimal cleaning of both carpets and hard floors. The "sealing strip," located behind the brush, improves hard floor cleaning performance by channeling the airflow and preventing debris kickback.

Brush Adjustment Indicator Lights
Two green lights, one for "up" and one for "down," illuminate to indicate when the power head is in the process of adjusting brush height to the proper cleaning level. Optimal cleaning effectiveness occurs when both lights are off.

Brush Obstruction Light with Automatic Shut Off

Vacuum Auto Shut OffIf an obstruction jams the brush roller, the red "check brush" warning light flashes quickly, the brush roller immediately stops spinning, and the vacuum shuts off. This feature prevents the belts from breaking and protects the motor and carpet from damage.

Worn Brush Light. Easy Brush Removal and Cleaning


Easy Brush RemovalWhen the brush roller's bristles are worn to a point that brush agitation is less effective, the red "check brush" warning light remains illuminated during use. (The vacuum continues to operate; it will not automatically shut off.) When needed, installing a new brush roller or cleaning hair or other debris from a used brush is quick and easy, and no tools are required!
Stationary Use Light


When the vacuum is stationary in its upright handle-locked position, the power head adjusts upward to the height necessary (or to its highest possible level) to disengage the spinning brush roller from the floor. However, if the brush remains in contact with carpet fibers, despite the power head's upward adjustment, the red "check brush" warning light flashes to alert the user to avoid potential carpet marking from excessive use time in a stationary position. Usually, very high-pile carpets cause this situation, or the vacuum is tilted toward the brush roller while using the cleaning wand and/or hose. The solution is to tilt the locked upright handle backward such that the brush is raised above the carpet pile.

Bag Full or Clog Light with Automatic Shut Off


When a full Vacuum Bag, a clog in the airflow pathway, or an excessively dirty Microfilter is detected, the red "bag full or clog" warning light illuminates, the vacuum automatically shuts off after 30 seconds, and then the warning light starts continuously flashing. This feature prevents overheating and motor damage from a lack of adequate airflow.

Combination Carrying Handle with Rotating Cord Hook
The SEBO Automatic X is easy to carry or quickly unwind the cord, using its unique handle with integrated rotating cord hook.

Three On-board Full-size Tools. Large Filter Bag


Full set of on board attachments for the SEBO Automatic X VacuumThe vacuum comes standard with a crevice tool, dusting brush, upholstery nozzle, and a large 1.4-gallon filter bag. Also, many optional accessories are available.

Lifetime Belt Warranty
Stop changing vacuum belts! With an AUTOMATIC X, they should last the life of the machine!

Forty-foot Cord
A 40-foot cord saves time, by reducing the number of electrical outlet changes needed during use.

Easy Maintenance


The controller on the SEBO Automatic X also regulates a warning system that not only alerts the user to problems such as clogs, a worn brush, a full bag & Brush Roller obstructions, but it also automatically shuts off the vacuum, when necessary, to protect the motor & belts from damage. In addition, the Automatic X has a convenient instant-use cleaning wand and suction hose, and it comes with a lifetime belt warranty.
Specifications of the SEBO Automatic X5 9580AM White Upright Vacuum
System Type

Bagged

Color

White

Product Warranty

7 Year motor, 5 Year non-wear parts and labor, Lifetime belts

Includes Protective Bumper?

Yes

Visual Interface

None

Brush Obstruction

Yes

Replace Brush Roller Indicator

Yes

Power Cord Length(Feet)

40.00

cord_hook_adjust

Yes

Cleaning Path (Inches)

15.00

Integrated Tool Storage?

Yes

Filtration

Hospital Grade Filtration

Capacity (Gallons)

1.40

Decibels

69.00

Waterlift

95.000

CFM

103.800

Automatic Power Settings?

Yes

Automatic Floor Height Adjustment

Yes

Motor Safety Shutoff

Yes

Brush Roller Motor Controls?

Yes

Brush Roller RPMs

3100
Purchasing

Shipping

Quality
Write Your Own Review
No questions yet. Be the first to ask the question!