Customer Reviews (

0

)
Question & Answers (

0

)
Read about the SEBO Pro ET-2 Electric Powerhead
The Sebo ET-2 power head has a wide 12.5" cleaning path and has four-level manual brush height adjustment. It aggressively cleans carpets, but the brush roller may be switched off by pressing the green illuminated on/off button, so delicate rugs and hard floors can be cleaned with straight suction. It's amazing 180 degree steering ability provides maneuverability around furniture and the extension side of the L shaped head makes cleaning edges and under counters easy.
The Sebo ET-2 also has easy brush roller removal, a convenient clog removal door, and an orange warning light with automatic shut off for brush roller obstructions. This prevents the belt from breaking and protects the motor and carpet from damage. Its warning light also remains illuminated during use when brush height is set too high for optimal cleaning or when the brush should be replaced due to reaching maximum bristle wear.
Features of the SEBO Pro ET-2 Electric Powerhead
German Engineered Craftsmanship
German made motor requires zero maintenance
Powerful Motor Designed for Deep Cleaning
Heavy-duty Commercial Quality
Extra Wide 12" Cleaning Path
Lifetime Belt Warranty
Motor Safety Overload Protector
L.E.D Performance Indicator Light
4-Level Height Adjustment
Superior Edge Cleaning
Sealed Bearings - No Hair Build Up
Extra Thick Protective Bumper
180 Degree Swivel Neck
Belt & Brush Shut-Off Protector
German Designed Brush Roller
Exclusive "Clean Out" Trap
Super Light-Weight Design, only 5.5lbs
Available in White, Red and Black
Benefits of the Sebo Pro ET-2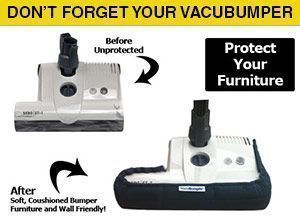 Deep Cleaning Sebo power heads offer deep cleaning of your carpets only a thorough brushing can give. For a real groomed carpet look. Makes your carper look new again. Fantastic for pet hair, pet dander, dust, dirt, dust mites and their eggs.
Wider L-Shaped Head The wider head allows for optimal cleaning and maneuverability around furniture and under cabinets, and the extension side of the head cleans and brushes right to the edge.
Brush On/Off Switch The green "power" light positioned on top of the power head is also an on/off switch. By pressing it, you may manually turn on or off the brush on the power head for cleaning hard floors or carpet.
Stationary Use When the machine has its handle in the upright-locked position, it is designed to shut off the brush roller. The green light does not illuminate in the upright position. The green light will illuminate only in the operating position.
Four-level Manual Brush Height Adjustment - The brush can be adjusted up or down for optimal cleaning effectiveness.
Brush Obstruction Light with Automatic Brush Shut Off - If an obstruction jams the brush roller, an orange warning light on the power head illuminates and the brush roller stops spinning. This feature prevents the belts from breaking and protects the motor and carpet from damage.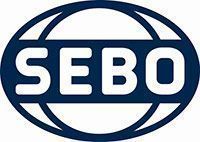 Incorrect Height Setting or Worn Brush Light - When the brush height is set too high for optimal cleaning or when the brush roller should be replaced because of maximum bristle wear, an orange warning light on the power head remains illuminated during use. The light shuts off when the condition is corrected.
Easy Brush Removal and Cleaning - Cleaning hair or other debris from the brush roller or replacing it when its bristles are worn is quickly and easy, and no tools are required!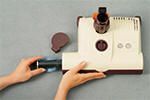 This feature ensures consistently effective brush agitation of the carpet pile.
Manual and Automatic Brush Shut Off - It can clean delicate rugs or hard floors with straight suction because the brush roller can be manually switching off by pressing the green illuminated on/off button on the power head cover. Also the brush roller automatically shuts off when the suction hose is removed from its housing port or when the handle is in its upright locked position.
SEBO POWER NOZZLE
Recognized worldwide as the most realiable on the market.
Advanced Bristle Wear Warning & Auto Obstruction Shut Off
Effectively Removes Pet Hair
Specifications of the SEBO Pro ET-2 Electric Powerhead
Cleaning Path (Inches)

15

Neck Movement

Pivot Neck, Swivel Neck
Items Included in the SEBO Pro ET-2 Electric Powerhead
Central Vacuum Button-Lock Telescopic Chrome Wand
SEBO 2780AM Neck Adapter with Cord for Central Vacuums
TurboPro Deluxe Handheld Turbo Powerhead Red
Purchasing

Shipping

Quality
Write Your Own Review
I wanted to see if this powerhead (SEBO PRO ET-2 ELECTRIC)was compatible with the Electrolux Central Vac system?
No answers yet. Be the first to answers the question!
Does the powerhead plug into a wall socket? My Nutone does not have a plug where the hose attaches to the system.
This nozzle has a rounded two pin cord plug that inserts into the handle of the central vacuum hose. Please contact our staff for assistance with finding the proper tools that will work with your system.
What hose is needed for this powerhead?
Any modern universal style electric central vacuum hose, much like the ones we carry will work.