Customer Reviews (

0

)
Question & Answers (

0

)
Read about the Turbocat Pro Air-Driven Powerhead in Metallic Candy Apple Red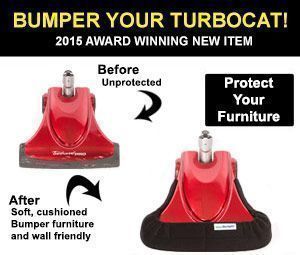 The next generation of the Turbocat® Series has just arrived! Engineered with exciting HOT NEW FEATURES and CANDY APPLE RED STYLISH PROFILE the Turbocat Pro was also designed with exclusive Z-tech technology. What makes the Turbocat so popular? Simply put millions and millions of consumers have been satisfied. New and improved and over 60% more powerful than its closest competitor's air driven turbo nozzle, nothing cleans deeper and faster than the Turbocat Pro. Lighter in weight and equipped with a low profile design the Turbocat Pro provides easy to use operation.
Insulated Silent Run Bearings:
Allows the Turbocat Pro to provide anti-vibration operation. Insulated bearings offer quiet usage while supporting the high speed turbine. Firmly stabilizing the brush roller these insulated silent run bearings reduce noise levels considerably. The Tubrocat Pro proves that quieter is better!
Productive Bumper:
Turbocat Pro series air-driven nozzles now come with a larger, softer more impact resistant bumper. This custom designed bumper was redeveloped for added protection for your walls, furniture, baseboards and moldings. This bumper is a must while vacuuming especially for house keepers, maid services and cleaning companies.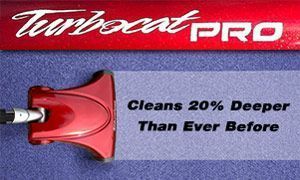 Superior Edge Cleaning:
Improved body design allows for deeper and more accurate edge cleaning. The Turbocat Pro's base was designed with deeper cleaning channels, providing better air-flow.
Easy Glide Wheel Assembly:
The next generation Turbocat Pro nozzle has added two new easy-glide front wheels. The easy-glide wheels allow the turbo nozzle to maneuver with ease. Testing has verified improvements in operation compared to older nozzles in the Turbocat® series with these wheels being more responsive to the user the Turbocat pro is backed with a customer satisfaction guaranteed.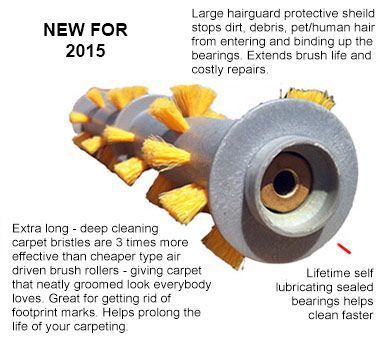 Deep Sweep III brush roller:
Helps to sweep up and capture Sand, Dust Mites, Hair, Dirt, Dust, Pollen, Pet Hair and all allergy laden particles.
Manufactured with not only a better design the Turbocat Pro is more durable, longer lasting and constructed out of top quality materials and components. Offering the latest in air-driven cleaning technology, the Turbocat Pro is a superior carpet attachment that works with all central vacuums and most portable vacuums. The Turbocat Pro improves air-flow with a larger intake port harnessing your vacuums suction power, improving cleaning performance. Its Deep Sweep II brush roller agitates carpet fibers in an advanced waive motion, so that deep dust, dirt and debris to vacuum away quickly and more efficiently. New and improved self-sustaining Turbocat Pro belt design allows the belt to last longer, reduce vibration, noise and provides less maintenance.
Turbine - a machine for producing continuous power in which a wheel or rotor, typically fitted with vanes is made to revolve by a fast-moving flow of air. Larger wheels and wider base for more stability and maneuverability. Easy Sweep Technology. Vac-n-Groom Brush Roller has a unique spiral design that enhances airflow and dirt pickup. The crimped chevron-pattern design includes dual height bristles to ensure constant contact with the floor surface. Self-tensioning, non-slip, Silent Drive belt reduces vibration, noise and maintenance. Soft Pro-Tech bumper protects woodwork and furniture "bumps" during vacuuming.
Did you know?
1. Did you know air-driven turbine nozzles could last in most cases longer than some electric nozzles?
2. To operate a turbine power head, there's no need for electricity, motors, batteries or cords to trip over, making this a consumer friendly nozzle.
3. With the Turbocat Pro there is no need to buy an electric hose to operate this device. Any hose that is used with a central vacuum can be used. This carpet nozzle fits any central vacuum made. It's better for the environment, landfills and energy which saves you hard earned money.
How low can it go? With the Turbocat Pro turbine powered, it will enable you to get under so many places such as your bed, coffee table, dressers, and even the toekick under your kitchen cabinets. Only about 3 inches high and a low profile design makes it ideal to clean your house better than most conventional upright and canister vacuums.
Floor Turbine This floor turbine is excellent on all carpet conditions rivaling many electric brushes. The unique horizontal turbine design provides a low profile for vacuuming under furniture. Extra large rear wheels make the tool glide on even the heaviest carpets. A timing belt drive provides reliable trouble-free performance. The sweeping "T" shape allows you to move close to tables and chair legs. With an oversized bumper allows you to protect your furniture and valuables. The full size width of the turbo nozzle approx. 13 inches allows for consistent cleaning results on all carpet conditions. Strategically arranged bristles on the brush roller results in deeper cleaning. The All New Turbocat Pro is the best turbine power nozzle available for central vacuums units. It's light, responsive, and highly maneuverable. So Powerful, Yet Lightweight The Turbocat Pro "new version" is so powerful, but it only weighs 4.3 pounds! That's a lot of deep down cleaning power in such a small package. Lightweight and easy to use.
Light, Responsive, and High Maneuverability The engineers who designed the Turbocat Pro designed it for the way you clean. The low profile body effortlessly glides and maneuvers over, under and around your whole house.
Superior Cleaning with High-Speed Turbine Power (Plus Model) Your central vacuum will produce the pure power you need for the turbine. The suction power causes the turbine to rotate at high RPMs which will generate the air power needed for the superior cleaning performance you would expect. The all new metal turbine shaft prevents the belt from breaking due to hair and other debris when vacuuming. Less wear and tear.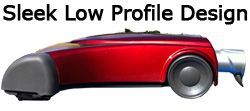 Deep Cleaning Agitator For Superior Cleaning Action The newly designed deep cleaning agitator was created to bring up the dirt deep-down to the surface so it can be vacuumed away with ease.
Non-Slip Serpentine Belt These belts assure the brush roller to spin at maximum performance with less vibration, less maintenance, and reduces the noise by half opposed to flat or geared style belts. No more chatter and less fatigue on the internal parts of the turbine. Double-Edge Cleaning The Turbocat Pro has outstanding edge cleaning that pulls in dirt from both sides, saves you time and effort from using a different type of vacuum to perform the same task.
Fun Facts: Part of the Green-Home Initiative
Turbine carpet/floor brushes use the power of the vacuum to spin the brush roll instead of electricity saving you money.
Turbines can indicate the status of your whole vacuum system giving you a clear indication when it is time to service the main power unit. These systems are less expensive than comparable electric brush systems.
Durability. Rust resistant. Corrosion resistant. Smudge resistant. Fingerprint resistant. Less effort to use. Faster cleaning. Fewer repairs. Longer lasting.
Specifications of the Turbocat Pro Air-Driven Powerhead in Metallic Candy Apple Red
Cleaning Path (Inches)

13.00

Color

Red
Purchasing

Shipping

Quality
Write Your Own Review
No questions yet. Be the first to ask the question!